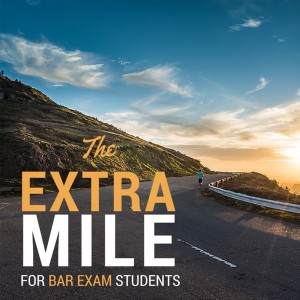 We've got some EXCITING news for you! We just released the first 3 episodes of our new Podcast series: "The Extra Mile Podcast for Bar Exam Takers" and it's LIVE NOW on iTunes
In this Podcast series, I'll be:
Talking with successful bar exam students,
Updating you on the latest news and notes about the bar exams around the country and of course,
Giving you lots of tips and techniques to improve your bar exam scores.
Check it out and let us know what you think with your Rating and Reviews.
New episodes will be coming every few days. Subscribe now so you don't miss a single episode. 
Click Here to subscribe via RSS (non iTunes Feed)
Click Here to subscribe via iTunes